Caramel
[Sittichai Khunachon]
Nationality
THA
Favorite Food
Shrimp, Porks & Fried Rice
Favorite Dessert
Plating ball
Favorite Movie
The Fast & Furious
Caramel
[Sittichai Khunachon]
Sittichai "Caramel" Khunachon believes in respecting the game, respecting his opponents and respecting his team. He started his esports career at the age of 17 with the goal of leading his team to a Free Fire Pro League Championship! Only thanks to his friends he decided to try his luck in pro gaming. Lucky for him, his friends joined him for this endeavor. His love for the game is deep as a bottomless pit. Despite that he will always be the one cheering up his team, making them feel at home with his jokes and funny tidbits.
Kapom
[Teepagorn Saraphap]
Nationality
THA
Favorite Food
Krapow Mhoogrob
Favorite Dessert
Plating Ball
Favorite Movie
Marvel Movies
Kapom
[Teepagorn Saraphap]
Teepagorn "Kapom" Saraphap, the supporting pillar in our roster! Anything that's worth accomplishing is going to cost work and hardships, something that he realized very early on in his pro gaming career. The road to success and recognition is filled with long hours and obstacles, but Kapom is ready to walk this road with everything he's got, doing his best every day while trying to surpass his limits. All eyes are on him which only fuels his desire to prove everyone wrong and show them that he and his team can reach any goal that they have set.
Nationality
THA
Favorite Food
Porridge rice with egg
Favorite Movie
Dr. Strange
WIN, WIN, WIN!
Rattapong "DEW" Rompochai is an extremely driven player who believes in grinding harder than everyone else to win everything in his path! Thanks to his youthful spirit and driven personality he helps the team to always strive for the best results, helping everyone to practice as hard as him. You have to believe us: Winning is his only thought – there is nothing else he is interested in. He is the embodiment of the saying that hard work pays off!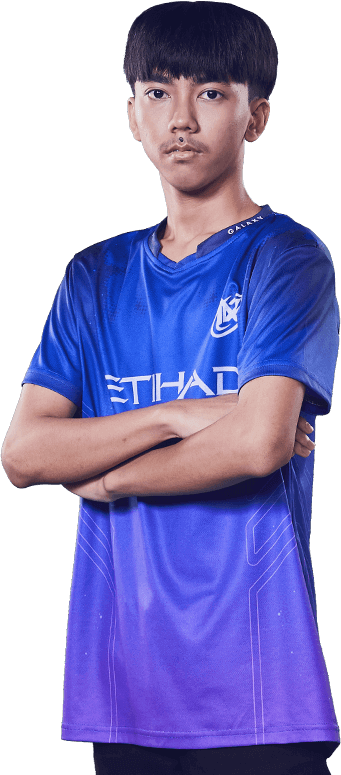 Nationality
THA
Favorite Food
Crispy porks with garlic and fried egg
Titipong "FIWGOD" Chaitip started his esports career from humble beginnings with a borrowed phone. He is following his dream and wants to provide a good life for himself and his family. He is the type of guy who will never give up. FIWGOD proved already several times that falling down and losing just means that he has to get up again and be even more ambitious than everyone else!
STOP
[Thinnabat Chalongkun]
Nationality
THA
Favorite Dessert
Durian with sweet sticky rice
Favorite Movie
Bang Rachan
STOP
[Thinnabat Chalongkun]
You can't spell ambition without Thinnabat "STOP" Chalongkun! He is our play maker and the heart of the team. He is always making sure we are having our best game. He already made a few pro gaming experiences in Free Fire which helped him to become less self-centered and focus on his team. This made him a stronger player and person in all aspects. Thanks to these experiences and his development as a pro player, he knows how to change the flow of the game to his favor! This year he plans on finally achieving his goal of winning the Free Fire Pro League.
DAREN
[Sittinon Kongkamnerd]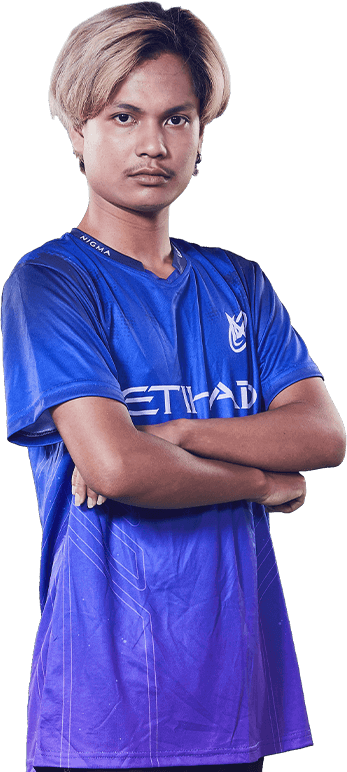 Nationality
THA
Favorite Food
Normal street foods
Favorite Dessert
Fruit smoothy
Favorite Movie
You & I are friend till I die
DAREN
[Sittinon Kongkamnerd]
Sittinon "DAREN" Kongkamnerd is one of the most versatile and disciplined players in the scene. He aims to strengthen his bond with his teammates and win the Free Fire Pro League with his brothers! Being one of the older ones in the team, he feels responsible to help everyone out in all aspects of the game, especially the younger ones. You can always count on Daren to deliver because when he starts promising you something, you can bet he will follow through with it!
Nationality
THA
Favorite Food
Grilled pork & Yakiniku
Favorite Movie
The Imitation Game
Kasama "EXP" Wongsoonnoen knows that creating a team that feels like a team is all that matters. He is making sure that everyone lives by his vision. Thanks to his ideals he is creating a team atmosphere his players appreciate and which enables them to reach for the best results in every game. There is no other road than the world stage for him!