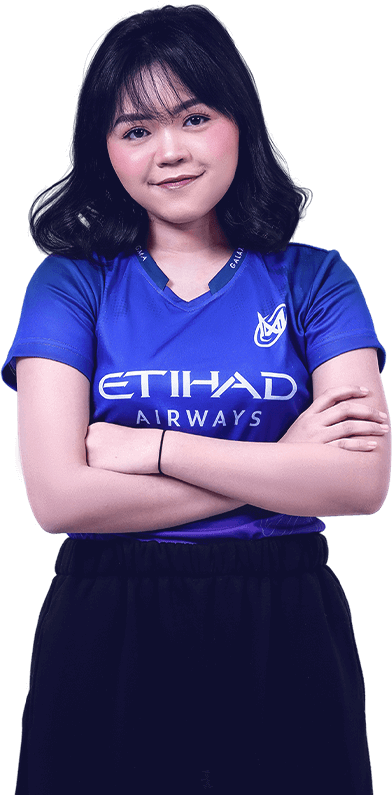 Nationality

IDN
Favorite Dessert
Sour Sally
Favorite Movie
Jujutsu Kaisen 0
Favorite Anime
Jujutsu Kaisen
Habsyah "Navillera" Mayfa decided to follow her dream and went full time into esports right after high school. It's not easy to make her waver because of her iron will and dedication to the game – she will deliver when it counts and help her team to bring out their best. With these qualities at hand, it was easy for everyone to know that she has to be the captain of the team. Her experience playing the game since 2017 and her peculiar foresight about occurrences inside the game help her to fulfill this role to the fullest. She has an impressive drive to become the best female player in Indonesia and make her mark on the esports scene with Nigma Galaxy!
Nationality

IDN
Favorite Movie
Marvel Movies
Helena "Crunchyy" Rengka started her gaming career in 2018 and turned pro in 2020. After studying hard and working several office jobs, Chrunchyy discovered her aptitude and skill at MLBB. Following her heart, the choice to turn pro was an easy one! She calls herself an idealist, focusing on her purpose and likes to embrace any circumstances, with the belief that they are leading to her vision. Joining Nigma Galaxy, she may have made the first step for reaching her goals!
Nationality

IDN
Favorite Food
Korean Barbeque
Favorite Dessert
Ice cream & Donuts
Favorite Movie
Marvel Movies
Favorite Anime
Jujutsu Kaizen
Nirmala "Alin" Adnyaswari turned pro in 2019 after having spent time working at Bank Central Asia. Lots of hard work and dedication led her to join Nigma Galaxy in 2022. Her strong conviction and belief that the female pro scene in Indonesia will someday blossom paid off. She is eager to prove to everyone that her way of playing is honest and focused, making everyone in the MLBB scene to look out for her!
Meylane
[Meylane Carmila Manek]
Nationality

IDN
Favorite Dessert
Ice Cream
Favorite Movie
Mission Impossible
Meylane
[Meylane Carmila Manek]
"Meylane" Manek, an ordinary law student with a dream to become a professional gamer, reached her goal in 2020 as she took the step to become a pro MLBB player. From very early on she loved to play games which only fueled her desire to go pro, working hard every day to challenge herself and reaching out to the stars. Joining Nigma Galaxy in 2022 her mission is to prove to the world she can be the best there is!
Nationality

IDN
Favorite Food
diva's dough lab
Favorite Dessert
mint/dark chocolate ice cream
Favorite Movie
Interstellar
Ivana "Anna" Tjahjono juggles university with her esports career and whether she's gaming or studying, she gives it her very best to make each day an improvement on the one before! Interestingly enough, Anna worked for many esports companies, allowing her to get knowledge and expertise about this sector. Her true desire was to become a pro gamer though, because she always believed in the upcoming growth of the professional MLLB ladies scene.
Nationality

IDN
Favorite Dessert
Cheese Cake
Favorite Movie
Marvel Movies
Vanessa "Pixie" Nicola started her esports career after getting her bachelor's degree. Her love with gaming started with Dota 2 which she always wanted to play but couldn't because of specific circumstances. When MLBB released she took her chance and started playing it as early as possible, making her a day one player and veteran in the scene. That is why Pixie especially takes a lot of care for her team members, guiding and supporting them in every aspect. She joined Nigma Galaxy in 2022 for the opportunity to follow her dream!